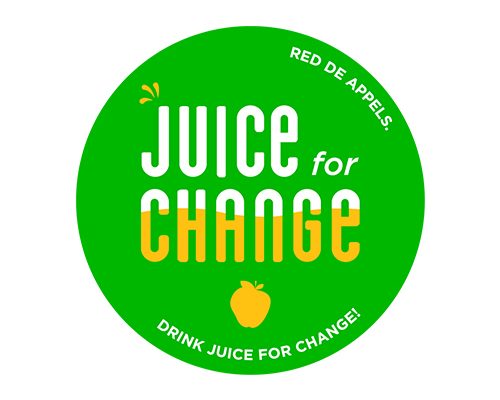 Description of the project
25 million kg
More than 25 million kg of apples and pears have to be destroyed. Too much to get wasted, no? So why don't we turn them into juice? If every Belgian drinks 2 extra liters of apple juice, the problem is solved.
Juice For Change
Juice for Change is delicious juice made from apples that were headed for the bin. In 2016, we helped Arthur, a young 23 year old farmer from Haspengouw. He's starting up his own apple company Mofrubel. The market price for juicing apples was way too low (7 cents per kilo). So he was planning to let his apples rot on the trees. By buying his apples for 31 cents per kilo, Arthur could cover his costs.
5 liters of delicious juice
Juice for Change is for sale in 'bag-in- boxes' of 5 liters. The juicing process was done by Mobile Press Juice Kempenland. The juice was pasteurised with a shelf life of one year. Bag-in- box were available between the 9th and 19th of November in the following cities: Brugge, Kortrijk, Gent, Ronse, Antwerpen, Mechelen, Brussel, Leuven of Hasselt.
12.5 euros, 5 liters of juice, 7.5 kilos of apples
For €12.50 you could get 5 liters of apple juice and rescue 7.5 kilos of apples. €10.50 was used to cover the costs of organising the crowdfunding, buying and pressing the apples.
You could also make donations: €5 earned you one of Arthur's apples. €100 earned you a dinner for 2. These donations, as well as the €2 profit from the juice, went to FoodWIN to support new food waste awareness projects.
Who is Juice for Change?
Juice For Change is an initiative by
● FoodWIN: support for projects that address food waste
● WOW! Food: a catering company that cooks with leftover food
● Wonky: delicious and healthy dips made of rescued veggies
● Food: a co-creative food lab and testing kitchen
● Gleaning Network: collection of leftover crops from farmers' fields after which they are donated to people in need.
● Re-Fruit: buys ugly veggies from farmers for an honest price and sells to consumers
● A great team of volunteers!
Juice For Change is supported by: Velt, Rekub, Eatmosphere, Mary pop-in, sociale kruidenier de KABA, Kromkommer.
Role of FoodWIN
FoodWIN was inspired with the idea for the project, initiated its implementation, searched for the partners and coordinated its trajectory.