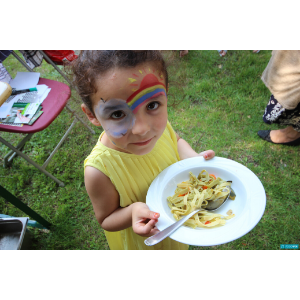 For this Disco Soup: chopping and eating surplus food on the rhythm of some funky beats, we turned to the neighborhood of Bethaniënpolder-Auwegemvaart in Mechelen.
Our partner was STROOM, a project of the city of Mechelen that wants to promote circularity in the neighborhood of Bethaniënpolder-Auwegemvaart together its residents. Avoiding food waste is one of their focus points. 
---
On vibrant music beats, neighbours joined forces together with FoodWIN and WOWfood to prepare delicious pasta and couscous meals from surplus vegetables, that would otherwise have been wasted by farmers and supermarkets. Young and old could help to peel and cut vegetables while brainstorming on possible solutions to reduce food waste in their neighborhood. The youngest were very enthusiastic to learn about the food waste problem by means of games. 
Food connects. Sharing food with others is fun and a way to make new friends. This can be found in the word French word copain, someone with whom you're sharing your bread. 
At the end of the afternoon, the whole neighborhood could enjoy a free and delicious meal under the sun. And the leftovers? There were taken home of course! 
Key Learnings:
Lots of perfectly edible food is unnecessarily wasted. The most frequently wasted food products in Flanders are bread, fruits and vegetables. 

Sharing food is a tasty and fun way to save food while making new friends! 

Taking the leftovers is not awkward, but a way to care for the planet and your wallet.

You can fight food waste in your home, your neighbourhood and your city. With which actions will you start? FoodWIN and the city of Mechelen give you tips to get started:

In this document, the city of Mechelen listed among others initiatives that fight food waste in Mechelen. Are you joining?