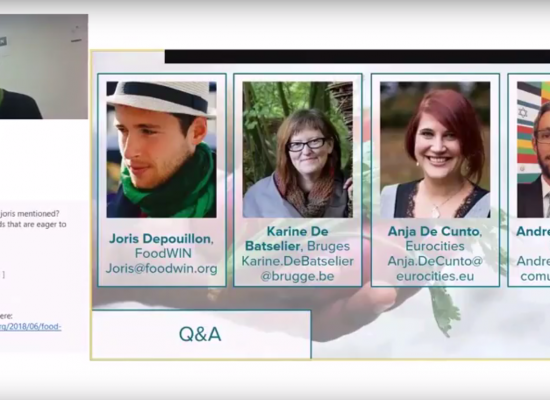 From food waste diagnosis to a holistic urban strategy
How can cities reduce food waste effectively and efficiently? Eurocities and Milan Urban Food Policy Pact invited FoodWIN to share our experience on how cities can conduct a food waste analysis and diagnosis to co-create a food waste strategy. In this webinar, frontrunning cities Milan and Bruges also shared their experiences with putting theory into practice!
Why cities?
One third of all food does not make it from the farm to our stomach! Throughout the production of this food, a variety of resources is wasted (seeds, water, energy, fertiliser, labor, land, financial capital) and greenhouse gases are emitted.
City governments are the best catalysts  to tackle food waste. By tackling food waste, cities reduce their costs for public administration costs, SMEs and citizens. Moreover, reducing food waste might be the most cost-efficient way to reduce greenhouse gas emissions. And finally, using high-quality food surplus can feed people in need.
What can cities do to reduce food waste?
Cities throughout Europe are already taking creative and innovative action to reduce food waste: from logistical platforms to redistribute food surplus, over public awareness raising campaigns, reducing food waste in school canteens to stimulating innovation and entrepreneurship on food waste. However, how can they do this in an effective and efficient way? Cities first and foremost need to have a clear idea of where and why food goes to waste in their city. On the basis of that, they can co-create an clear strategy to reduce food waste.
What did we learn from the webinar?
During the webinar, FoodWIN presented a manual on creating food waste strategies. Next, EUROCITIES & Milan Urban Food Policy Pact presented an overview document of best-practices on fighting food waste throughout Europe.
Content of the webinar:
Introduction

Diagnosis: methodologies, budget, time frame, impact

Co-creating a strategy: how, with what stakeholders, content of food waste strategies, from strategy to action, budget, time frame, impact

Questions