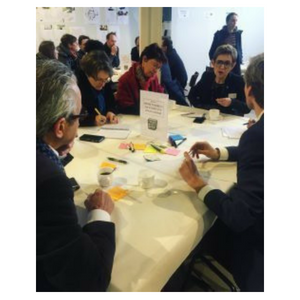 Op 9 maart organiseerde IMS en FoodWIN, als onderdeel van de Transitions Days in Luxemburg, "FOOD WASTE ZERO: The Challenge". Tijdens het evenement kwamen ongeveer 60 mensen met verschillende achtergronden samen om innovatieve oplossingen te creëren om voedselverspilling in bedrijfsrestaurants te bestrijden. Ondernemers, privébedrijven, overheidsinstanties, studenten, allemaal kwamen ze om nieuwe mensen te ontmoeten en samen innovatieve ideeën te ontwikkelen om voedselverspilling tegen te gaan.
On March 9th, as part of the Transitions Days in Luxembourg, IMS and FoodWIN organized "FOOD WASTE ZERO: The Challenge". During the event, around 60 people from a variety of backgrounds came together to create innovative solutions to fight food waste in corporate restaurants. Entrepreneurs, private companies, public authorities, students, all of them came with the aim of meeting new people and creating innovative ideas to fight against food waste together.
FoodWIN co-created the methodology and facilitated the event with IMS Luxembourg. The challenge began with 4 inspirational talks:
Foodways Consulting presented the work they do to reduce food waste in the food service sector in the framework of their network 'United Against Waste'.

Les Acteurs AntiGaspi (Stop au Gaspillage Alimentaire) presented the effort they do in the North-East of France to unite innovators, food companies and local governments to reduce food waste.

Wastewatchers presented its tool for corporate restaurants. This tool helps chefs measure how much food they waste and gives tips and tricks to reduce food waste and costs.

Food4All, finally, presented its start-up that wants to help supermarkets sell their food surplus at a discount.
After the talks of the experts, participants did a brainstorm using mind maps and templates to
develop innovations to reduce food waste. These were the presented ideas during the pitching
session:
"Open fridge" : solidarity refrigerators dispatched in Luxembourg accessible to all and managed by a cooperative

"No waste nomade" : vending machines supplied by food surplus to help those in need ; these people would receive tokens, through social organizations, to be used in the distributors.

"Aramarkshop @ UBS" : An application to sell food surplus of company restaurants. The application would be managed by the kitchen of the canteen, which would evaluate its leftovers at the end of the service at noon and then update the application and offer takeaway meals for the evening to the company's employees.

"Food olympics" : Initiative to raise awareness among schools. This initiative takes place in the form of games to learn in class but also on the ground (in the canteen, in the garden, at home).

"Lëtz-këscht" : an initiative to reduce food packaging waste by creating reusable packaging

"Local lifestyle Luxembourg" : a coalition to increase local production and develop processing structures for surplus food

"Application bons plans" : tips and tricks to ensure a healthy, economical and waste-free diet