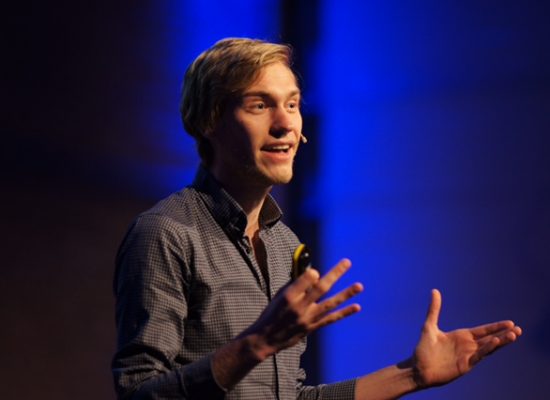 In mei 2017 won Thomas Luttikhold de Food Waste Solution Challenge van de EU-onderzoeksgroep REFRESH met zijn bedrijf: Wastewatchers. Hij maakt deel uit van het Food Waste Innovation Network.
Wat inspireerde Thomas? En hoe werkt Wastewatchers? Ontdek het in dit interview!
In May 2017, Thomas Luttikhold won the  Food Waste Solution Challenge of the EU researchgroup REFRESH with his company: Wastewatchers. He is part of the Food Waste Innovation Network.
What did Thomas inspire? And how does Wastewatchers work? Find out in this interview!
What is the state of play of food waste in Europe?
 Thomas: although we are never certain, because facts and figures are missing, but approximately 20% of good food is wasted in Europe. In Holland the net value of the yearly waste is approximately €4.5 billion. While Holland is just a small country in Europe of course.
Why did you create Wastewatchers? How did the idea of Wastewatchers come up?
Thomas: I've worked in restaurants for almost 10 years and as a teenager I had to throw away a lot of food. At the same time I was studying economics and I saw a lot of companies throwing away a lot of food and thereby also a lot of money. I found out that this could be prevented during my graduating assignment, which was writing about food waste in the hospitality scene.
What is Wastewatchers? Who is it for? 
 Thomas: Wastewatchets is a company that fights food waste in restaurants, hotels and hospitals. We strive to prevent food waste by providing knowledge and insights about why food waste is occuring.
What are your actions?
 Thomas: we developed a tool for those companies to registrate food waste. With these registrations we do (big) data analyses, which we give back to the companies in a magazine or reports.
What is your business model? 
 Thomas: we sell a license for our online tool on a monthly base.
In general, what would you advise to hospitalities to reduce food waste?
 Thomas: know your guest. We see it to often that the ktichen / chefs don't know the eating habits of their consumers. This changes per day and per location. The knowledge of these eating habits can enhance the quality of the product, but also the service. With less waste as a result.
What is the purpose of the tool you've developed?
 Thomas: to create awareness, to provide insights and to deliver knowledge.
What is the impact on food waste?
 Thomas: huge, in normal cases we see locations reduce 20% of their food waste due the combination of awareness and knowledge. Locations are able to be ore effective with their surplus, be more creative about their surplus and have the information on how to sell the surplus.
What are the benefits for the hotels & restaurants? And in healthcare sector?
 Thomas:
 a) It is a huge money saver, so it is almost dull not to do so.
b) It enhances a sustainable policy making for hotels and restaurants. For the healthcare sector it can improve the quality of the healthcare. Due the fact that if people eat more effectively (and therefore produce less waste) patients are healing quicker.
Do you feel that the hospitality sector is committed to tackling food waste? 
 Thomas: in my perspective the commitment is fairly low. Tackling food waste is still in its infancy.
What are you objectives in the future?
 Thomas: to provide knowledge to tackle food waste beyond the Netherlands. To gain so much data to develop a forecast tool and to set up cool initiatives to reduce food waste .
An interview by Mathilde Fromageau